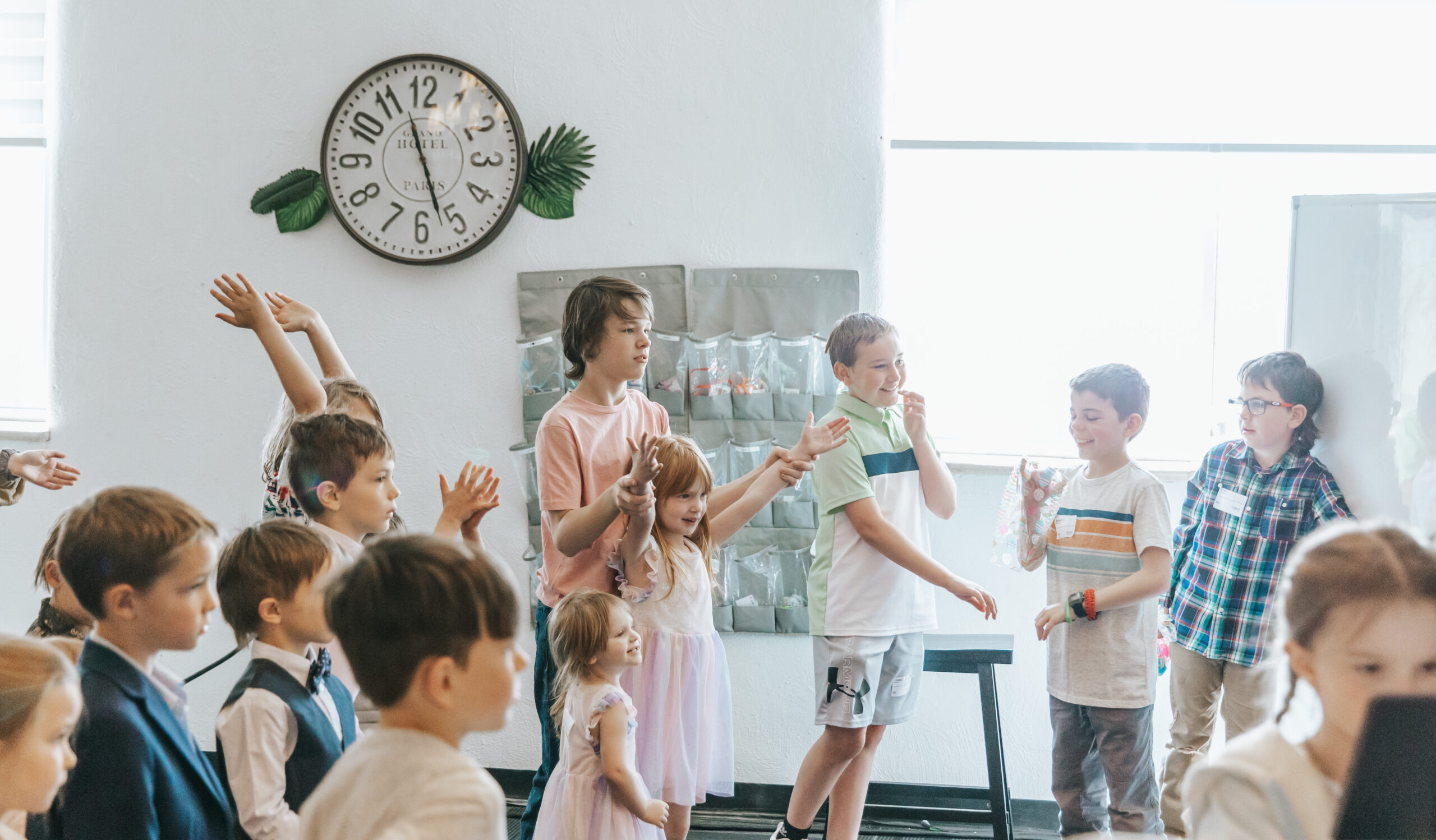 Kids
Helping Children DISCOVER, EXPERIENCE & FOLLOW Jesus
During our Sunday service, New Life Manitou kids spend time worshipping, praying, building friendships, and having fun. Our mission is to partner with the Holy Spirit and families to help children discover, experience, and follow Jesus. After checking in downstairs, we encourage families to spend the worship portion of the service with their kids before being released to come downstairs for class time.
"INSTEAD, WE WERE LIKE YOUNG CHILDREN AMONG YOU. JUST AS A NURSING MOTHER CARES FOR HER CHILDREN, SO WE CARED FOR YOU. BECAUSE WE LOVED YOU SO MUCH, WE WERE DELIGHTED TO SHARE WITH YOU NOT ONLY THE GOSPEL OF GOD BUT OUR LIVES AS WELL."
1 THESSALONIANS 2:7-8

New Life Kids (NLK)
NLK Baby
We love to serve babies and growing toddlers in the name of Jesus. We are committed to providing a safe and nurturing environment, allowing us to teach them to love the Lord their God with all their hearts, souls, minds, and strength as they sit, walk, lie down, and get up. Our class time is designed to attract the hearts of children in such a way that their time at New Life Manitou is the most exciting and enjoyable hour of their week.
NLK Pre-K & K
Our vision and desire is to partner with parents in training up the next generation of world changers. Our purpose is to provide a safe and fun environment for our 3–5-year-olds, serve the families of New Life Church and minister to each child in a way that allows them to grow in God's love for them. Through engaging lessons, fun sensory activities, prayer, and worship, we encourage Preschoolers to grow deeper and closer to God in a tangible way. Once you have headed downstairs to check-in your child, they are welcome to go upstairs to experience worship time with you or come into the downstairs classroom for playtime..
ELEMENTARY
Each week elementary students from 6 years old to 4th grade are welcomed into a fun, safe and engaging environment during the sermon portion of our service. More importantly, children are invited to discover and experience God through interactive worship, age-appropriate teaching, and discussion groups with their peers. You'll arrive to church, check-in your child downstairs, and then head upstairs to sit with them during worship. At the conclusion of worship, the kids will be released to go downstairs to the classroom and await pick-up after the conclusion of the service.
MIDDLE SCHOOL
The middle school class at New Life Manitou is designed to lead youths grade 5 through 8 into deeper knowledge and understanding of the God's Word, to experience deeper intimacy with Jesus, and to be deeply rooted in their faith as they face the world around them. Middle school students will check-in downstairs before heading upstairs for worship time in the service. After worship, students will be dismissed to the Upper Room where their teacher will be waiting and ready to begin their class time which includes bible book memorization, an age-appropriate lesson, scripture reading, discussion, games, and prayer. Their adults will pick them up at the Upper Room after service has concluded.
CHECK-IN TIMES
Check-in for our weekly Sunday service beginning at 9:40am at New Life Manitou Springs.
Safety & Security
We take the safety and security of your children seriously. Here you'll find the different resources and systems we've set up to help parents and your children to be protected and flourish.
Visitors in the Classrooms
Medical Emergencies/Accidents/Injuries
Apply to Serve With Us!